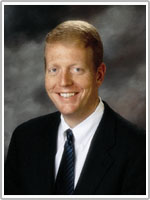 Many will remember Rob's fun loving and cheerful spirit. He connected many of us together.
Rob always spoke about his two boys, Daniel and Calvin, their sports activities and how proud he was of them. He also was an insufferable Green Bay Packers fan.
Professionally, Rob was dedicated in promoting charitable gifting strategies as he helped his client's achieve their financial objectives.
Below is a list of a few of his accomplishments and affiliations:
Graduated from Wheaton College in 1989 where he was an All-American swimmer.
Contributing author to – The Four Corners: Where Your Estate Plan Becomes a Living Legacy
Speaker on the topic of Generational Insights
Board member of the Southwest Florida Financial Planning Association
Board member of the Pregnancy Resource Center
Cross Country Coach at First Baptist Academy
Founding member of the Summit Study Group
The members of the Summit Study Group invite you to consider donating to the donor advised fund "The Robert K. O'Dell Memorial Fund" created as a charitable legacy.
Your contribution should be made payable to: "American Endowment Foundation", listing in the memo: "The Robert K. O'Dell Memorial Fund" and be mailed to 5700 Darrow Rd. Suite 118, Hudson, OH 44236.